Originally Published on This Site.
25 January 2019
Bloomberg Government
FY 2018 government spending on cybersecurity and cloud computing rose to $6.4B and $4.1B, respectively
Pentagon spending on AI increased by 170 percent FY 2017-2018, spending via OTAs by 90 percent
The U.S. federal government spent an all-time high of $64.7 billion on information technology contracts in fiscal 2018, a 9.5 percent increase from fiscal 2017 levels, according to Bloomberg Government's analysis.
The Defense Department's IT contract spending grew by more than 12 percent to $33.8 billion in fiscal 2018, while total IT contract spending by civilian agencies rose to $30.8 billion, a 6.6 percent increase. These figures underscore just how central IT and IT contractors are to modern government operations.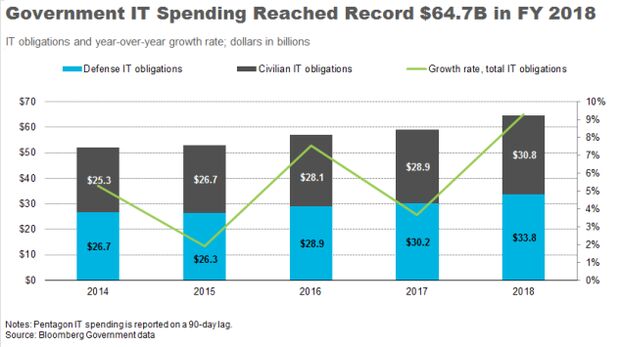 READ MORE